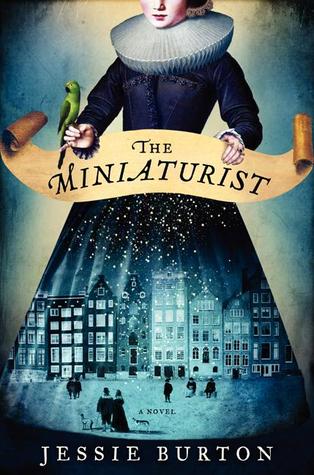 Book of the Year and New Writer of the Year at the 2014 Specsavers National Book Awards. Chosen for the Winter 2015 Richard & Judy and Waterstones book clubs. Longlisted for the 2015 Desmond Elliott Prize for debut fiction.
This book made everyone stand up and take notice when the British public voted it Book of the Year at the Specsavers National Book Awards and it soon appeared on the major book club lists. Today it has been announced as a longlistee for the well-regarded Desmond Elliott prize although it was notable for its absence on the Bailey's Women's prize longlist.
The novel is set in seventeenth century Amsterdam when the young Petronella Oortman arrives at the home of her new husband, the dashing merchant Johannes Brandt. Her hopes as a married woman are soon dashed as her husband is aloof and distant and she must make do with the company of his formidable sister, Marin, and a household of unusual servants. Nella's life picks up when her husband presents her with a cabinet with which to make a replica of their home and she employs the services of a miniaturist to furnish the house. As the family's life rapidly disintegrates with scandal and intrigue, can the miniaturist predict the future? Does the miniaturist hold the key to the family's fate?
Well, who knows? Whilst I enjoyed the book and its characters it didn't quite live up to expectations. I liked the portrayal of Amsterdam's merchant warehouses and the moral standards of the late 1600s and I enjoyed the plot although it was far-fetched and relentlessly tragic. The main problem I had with the book was that the whole miniaturist sub-plot was superfluous to the main happenings in the story. The miniaturist didn't really predict anything or provide any insight and was a distraction from all the other things going on. I was left with the unusual feeling that the book would have been better without the miniaturist. It should have been the heart of the book that pulled everything together rather than an unnecessary sideshow.
So yes, it was a nice book to read with a story that holds interest but it didn't really hold up to scrutiny, which is why, I suspect, it isn't on the Bailey's longlist.
3 stars